The crucial role of the supply chain in the luxury industry The need for artisan and digital balance. Accelerating flexibility.
08/01/2021
In recent years, the luxury industry has shown how essential it is for brands to have ever more direct control over their supply chain.
The Italian fabric sector exhibits very high added value in this area thanks to the artisan skills and abilities distributed over a myriad of small workshops. Entrepreneurial businesses that collaborate with major brands on a global scale but which do not always manage to keep pace with technological evolution and with the innovation imposed by a world that has shifted its axis to the digital realm.
The arrival of the pandemic drastically accelerated a series of phenomena that sees technology as the protagonist and that is maturing organically in the undergrowth of our social fabric. We witnessed the crisis of complex systems, especially when thinking of the most distributed and heterogeneous supply chains and the message that this situation brings is very clear: innovate or die. This is why we strongly feel this need that drives us to redesign processes to rethink the business and reinvent itself.
To reinvent is, nowadays more than ever, a necessity: it is no longer the case that the bigger fish eats the smaller one, rather that the faster fish eats the slower one. We expect this new "high digital tide" to further obscure the sector's boundaries, to increase scalability and to permanently relax geographic constraints on consumption as well as on sourcing and for professional services.
At Temera we have embarked on a visionary journey, as per our DNA, launching a new initiative called the "resilience committee". We did this to give ourselves an opportunity to reflect, involving a mixed group of participants selected from within the company and extending participation to outside "advisers". The committee was created with the aim of asking ourselves what the long-term result of this "shock" will have on the Fashion/Luxury system, modifying the environment in which we find ourselves and, subsequently, how the company should operate.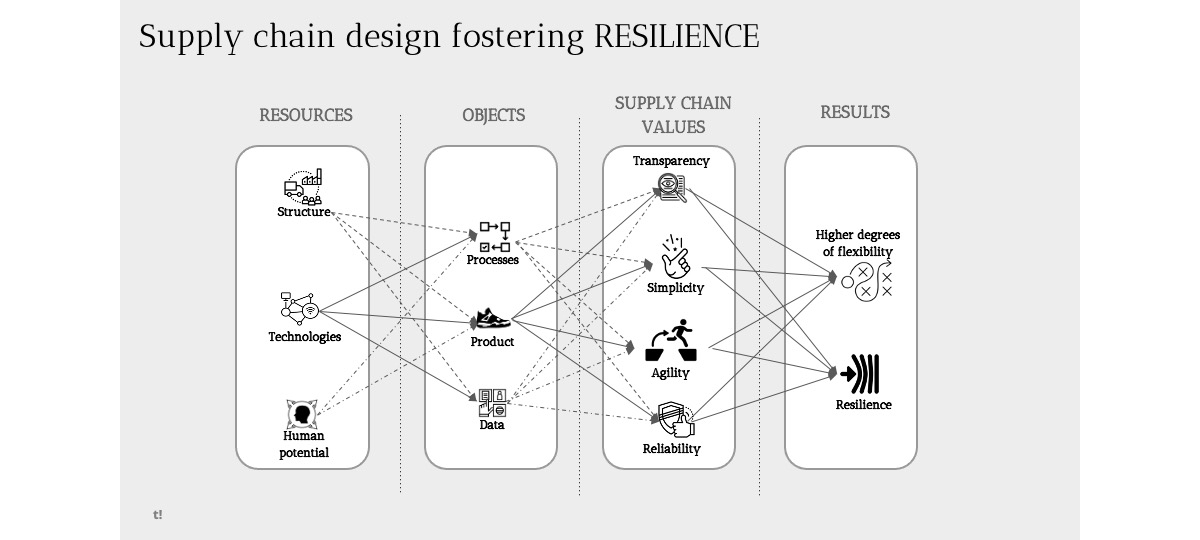 The supply chain will need to strengthen processes, increasing agility: those brands that manage to build a sourcing network capable of rapidly meeting changing market needs will be the winners. Rearranging processes and, if necessary, even part of the organisations themselves.
Concentrating solely on the need for speed is certainly one of the elements but the network also need to be flexible and, above all, resilient thanks also to the introduction of new data analysis tools and, therefore, new decision-making methodologies.