Retailers ready to push investments in Omnichannel Finding the right balance between cost, speed and resilience. Planning, allocation and stock management: the supply chain once seen as just 'cost center' definitively enters the role of strategic asset.
19/01/2021
2020 has market its time due to many reason. One of them is the Digital Blast that contributed to shift demand to the advantage of online sales. A trend accelerated by the recent restrictions to travel and physical shopping which does not seem set to slow in 2021, consequently become a priority for retailers to increase speed and flexibility.
A recent research conducted by Bain & Company® with the partnership of Microsoft® has highlighted a series of phenomena that are indicators of a radical change in logistic and supply chain management dynamics.
In this context, the Italian industrial fabric expresses a high added value, thanks to skills and artisanal craftmanship distributed over a huge number of small workshops. Entrepreneurial realities that collaborate with large global brands but that are not always able to keep up with technological evolution and innovation imposed by a world that has shifted its axis to digital.
Overall, retail leadership teams are beginning to include supply chain top managers in strategic decision making, acknowledging that supply chain data and insights are vital to their business success. Among the companies that answered the survey, 67% expect their supply chain infrastructure to provide input for most or all of the key strategic decisions, such as merchandising, store operations and product strategy.
Fashion & Luxury companies are focusing investments in three major areas to strengthen both speed and agility of their supply chain
– Flexible Operations
– Omnichannel Fulfillment
– Predictive Planning
RFID – Achieving the perfect balance between flexibility and accuracy
Temera has become a promoter of innovation primarily in IoT field, gradually expanding its solutions portfolio and enhancing the skills acquired in response to the needs encountered in the many projects successfully delivered.
RFID is the key technology that majorly contributed during last ten years to reengineer business processes within most advanced companies, aiming to obtain higher operations flexibility in manufacturing and ultimately inject resilience into supply chain.
About logistics: the adoption of RFID leads to a dramatic acceleration of some of the most critical distribution processes. It helps to guarantee an errore reduction while keeping infrastructure flexible.
Crossing the entire value chain, Retail operations field is where companies aim to obtain the majority of the benefits in terms of 'responsiveness & flexibility'. The point of sale today is not limited to simply being a 'physical' touchpoint with the consumer, it rather evolves taking the form of an omnichannel hub: that's the reason why it must be able to perform a large number of complex activities applying fluid & responsive procedures. Inbound/Outbound or the fulfillment of an order coming from a digital channel, can no longer be performed asynchronously; the use of RFID technology allows to perform numerous movements and complex activities while maintaining the perfect balance between execution speed and accuracy.
To obtain stock accuracy level as close as possible to 100% is the first step to achieve excellence in Omnichannel dynamics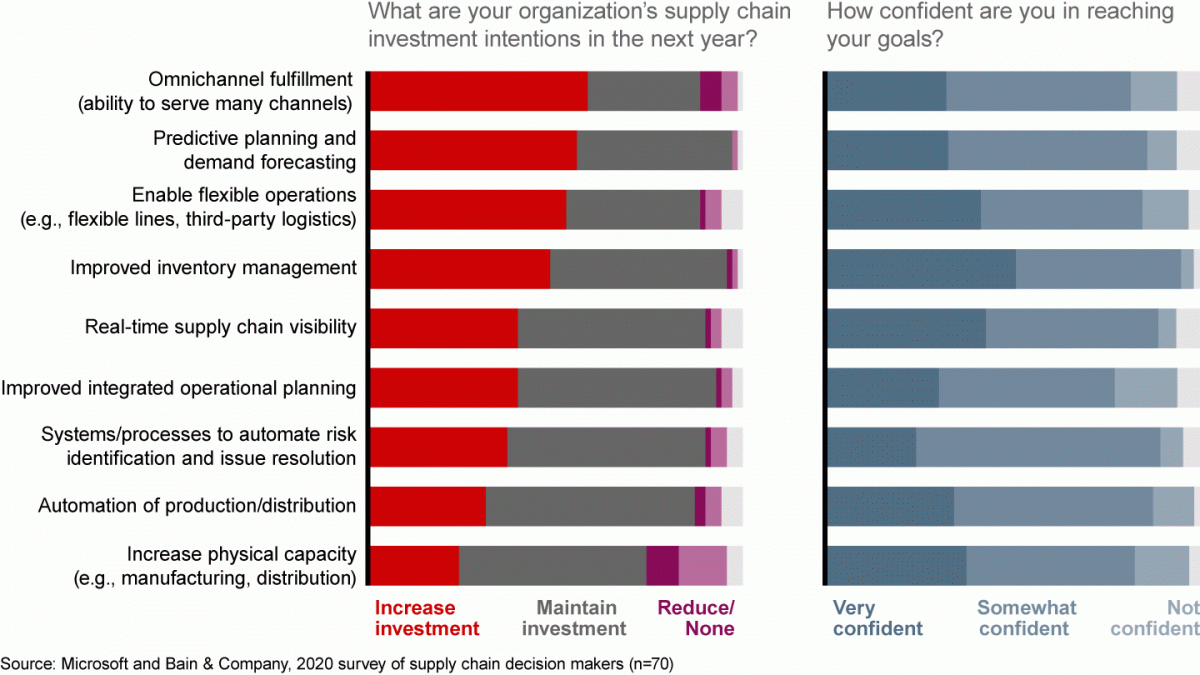 OMNICHANNEL FULFILLMENT – transform the company to serve 'the customer who wants everything'
Traditionally, retailers and consumer goods companies have relied on large centralized facilities to fulfill orders online efficiently, building a new stock 'silos' intended to serve a single specific purpose. Long before the critical situation revealed by digital acceleration in 2020, many brands faced increasing pressure to handle and fulfill orders from multiple digital channels more efficiently.
Efficiency as synonymous for speed: a Distributed Order Management System is expected to be sufficiently "innervated" within the company structure to manage customer request routing playing a high degree of autonomy, obtaining the best result possible through product distribution.
Rather than physically centralize the stocks in a single container, just stock information from multiple systems are merged together. An increasingly "intelligent" tool is grafted onto this data, having the capability to synergistically dialogue with multiple software platforms and route consumer requests in the most appropriate way within the ecosystem.
A recent research from Bain® and Microsoft® shows that nearly 60% of Retailers now plan to increase their investments to strenghten the capability of more facilities to manage requests from Omnichannel businesses.
In the vertical Fashion & Luxury market, we have witnessed the transformation of stores into mini-hubs: this type of evolution has occurred both for fast fashion players as declared by Zara, and for brands belonging to the luxury world.
The investment objectives move in the direction of re-inventing the store replenishment dynamics, shifting the time axis for the goods restocking cycles from days to hours, even with multiple deliveries during the day. This means sending very often in an extremely fragmented way in order to accurately cover the demand. Although it may initially be complex, this transformation process allows to reduce stock levels engaged in display only and to optimize space for performing micro-logistics and packing operations within the stores.
Leveraging RFID tag and its 'digital voice' products can dialogue communicate in an interconnected way with the platforms. Raising the level of intelligence of the entire ecosystem.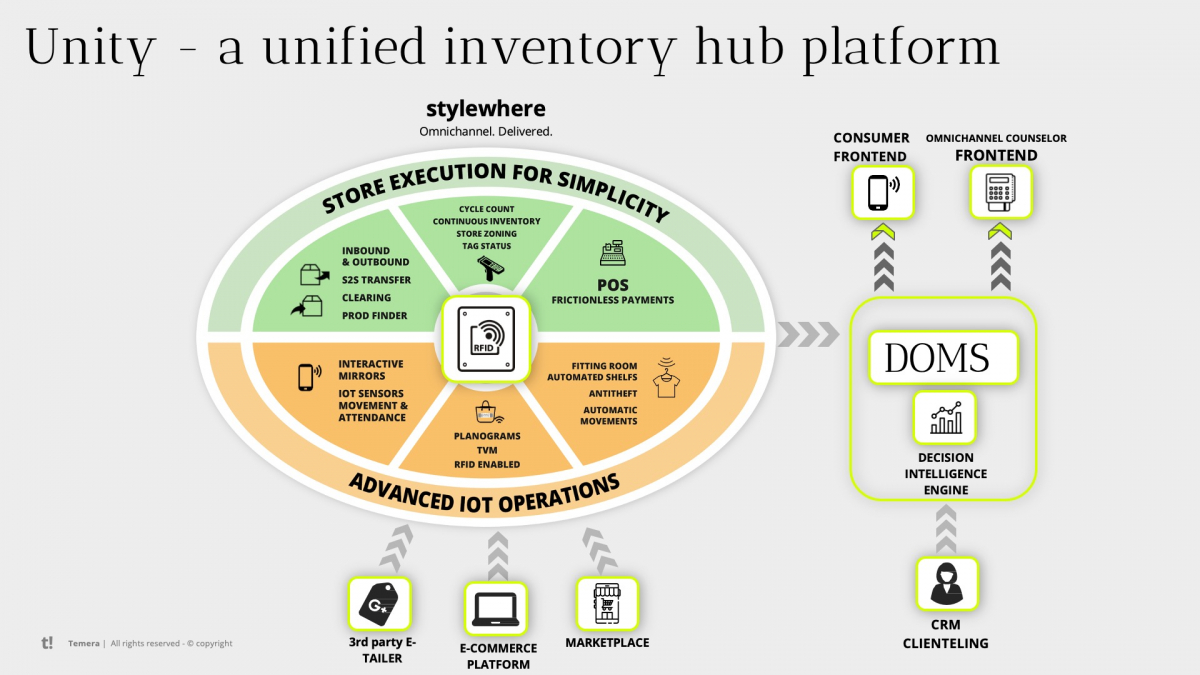 PREDICTIVE PLANNING – accelerating resilience
While Fashion & Luxury companies are committed to improve the resilience of their value chain, many are facing a new set of challenges. For example, traders may oppose to new decision-making models. Data Systems may be archaic, making it difficult to improve visibility on the supply chain. Merchandising and planning managers may need coaching to bring strategic insights to the table, and leadership teams will need to incorporate new data sets and metrics into decision making.
Some companies in the luxury industry are developing predictive planning dynamics through demand forecasting tools, with the aim of significantly improving their performance. The combination of IoT, thanks to the enormous number of information generated by RFID tags and sensors of various levels applicable within the stores, together with AI is giving life to a new revolutionary approach to planning the floorset. In the research mentioned, it is reported how a Retail company that has invested in artificial intelligence projects has been able to revolutionize the operational results for its sales network: by modeling the behavior of customers in each store, the company has been able to reduce 'out of stock' conditions by 30%, shorten restocking cycles, increase sales and reduce waste and use of discounts. These gains have increased profitability by reducing the phenomenon of lost sales and improving the overall assortment of products at the point of sale.
In a highly competitive context, the choice of partners also plays a fundamental role.
Recent