Designing the future of business. Temera stars at metaverse x luxury symposium 2023
02/02/2023
Imagination breeds innovation: this was the main theme of the Metaverse X Luxury Symposium held in Milan on January 26, organized by Limitless in collaboration with Metaverse Fashion Council. New sociality, research, challenge to deeply change the world we live in: the metaverse influences the digital experience to the point of transforming the concept of reality.
Guido Mengoni, CMO of Temera was one of the prestigious speakers at the conference, along with other international protagonists of the Luxury and Tech world. "Virtually replicating the physical world, as the Metaverse proposes to do," said Mengoni, "opens up revolutionary perspectives for companies that, through predictive models elaborated by Artificial Intelligence algorithms can estimate future performance and experiment with product modifications and improvements without having to test them on the products themselves, shortening time and reducing consumption. Every single item will have a digital twin, a virtual twin, a unique identifier usable via RFID, UHF & NFC or QR code. This will enable fashion brands to evolve in terms of sustainability, not only taking into account prototyping and development, but more importantly through the ability to track and know every single step in the supply chain and thus improve performance in consumption, ethics and waste. Keeping track, collecting data and making it usable, creating a bridge between the physical and digital worlds, is indeed an important step toward full transparency of a product's life cycle."
Metaverse means integration of systems, virtual stores that can influence physical ones. "The consumer is looking for experiences," Guido Mengoni continued, "but always under the banner of transparency, traceability and, ultimately, sustainability".

The circular economy considers the product from its origin to the end of its life, and it will be the "digital passport" that will migrate to NFTs, the Non Fungible Tokens that will certify the deed and authenticity of a product, written in a Blockchain that will be responsible for decentralizing, disintermediating to streamline the supply chain, optimize production time and logistics, and combat counterfeiting.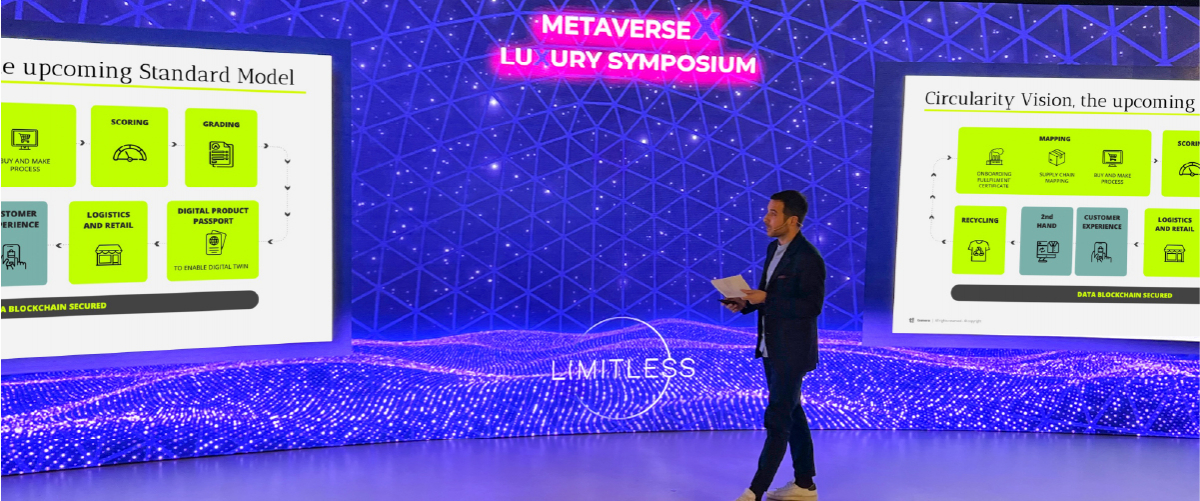 The application of this technology, a 3.0 evolution of the web, will lead to a transformation in all market sectors: it is no coincidence that fashion is one of the most affected sectors, which is experiencing heavy investment in digital. Together with Temera, the Metaverse X Luxury Symposium was attended by Chalhoub Group, Luxottica, Vsk Shanghai, Rooom, Bulgari, Pinko, Otb-Diesel Group, Dolce & Gabbana, Istituto Marangoni, among others, who analyzed the major trends that are influencing the economy: sustainability, the concept of experience, ecosystems, and web 3.0. "The best heads of the tech industry dialogue with fashion and luxury brands," said Stefano Galassi, founder of Limitless Innovation in his introduction, "Together, today in Milan, we design a new future for businesses.
Récents